Let's just say there are times when Blogger is just not fun at all. I have been trying to post for days and it has crapped out on me each and every time.


First of all, let me just say THANK YOU for all your kind wishes on my special day. As I mentioned the week before last, I was really having a hard time with it. I didn't know if it was the actual number or just more the place I was at. However, lows always give way to highs and by the time it actually arrived, I was back to myself. I have so much to be thankful for.
My birthday itself started out a little unfun. I was at the dentist bright and early for a cracked tooth. Let me just say, since I have such unbelievably disgraceful luck with dentists, she was phenomenal. Not only was it filled within seconds, but without anaesthetic as well. This was a very large leap of faith for me, given my fear. I tried to be calm, but tears were rolling down my face. However, it was done before I even knew it.
I went off to lunch with my ex-coworkers at a local golf course. I hadn't seen a couple of them since leaving last April, and was touched they'd come out for lunch on what is typically the busiest day in the office.
In the afternoon, I made a little trip to the camera store. And now the D80 is mine. Oh yes, she is mine. She is beautiful. It's a fantastic camera with an 11-point autofocus, and so many bells and whistles I have only begun to scratch the surface.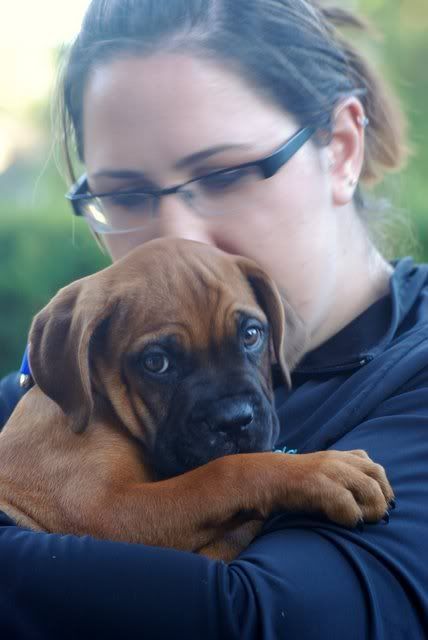 When it was time for dinner, I went to my parents' where the rest of my family was gathered. We have a new addition in our extended family. She is beautiful. 8 weeks old, 16 lbs. and a personality to melt your heart. Her name....Kali. The Goddess of Destruction.
Kali had a very traumatic trip to her new home the day before. Travelling by car in her crate from southern Missouri to Little Rock, Arkansas. Hopping a plane to Atlanta, Georgia where she missed her connecting flight to Seattle. Thankfully, there was another plane just two hours later but by the time she arrived at the gate, she'd been in that crate for nearly 16 hours. She was shaking, terrified and very dirty. None of that mattered though. She was home. Or at least with her new family. Another 3 hour drive, but this time on the lap of my niece, she snuggled right in and hasn't stopped since.
You would think my brother has gone soft. The man who swore that dogs don't belong on couches, let alone in bedrooms sat eating his dinner on the staircase so he could watch his little princess sleeping soundly on the pillow he'd propped her up with on the couch. 'She's had a rough couple days', he intoned. We giggled.
The rest of the weekend was busy as well, with my first paid photography job. I will write about that later but for now, I just wanted to get at least one thing updated.